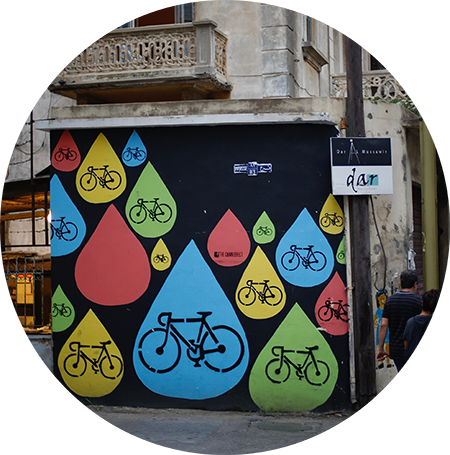 We use public art to create a stir about bicycling and sustainable mobility.  It works well because it is highly situational and pushes people to think about their transport patterns and habits while they are in the process of moving around. Our main message is 'If you rode a bicycle, you'd be there by now', and we have so far painted 24 Murals around Beirut, several with students and scout members as part of larger workshops. The aim is to get people to start viewing the bicycle differently, and not just as a sports or leisure tool.
explore our street art projects



Slide One

Slide Two
the chain effect
Independent Organisation

Slide Three
the chain effect
Independent Organisation



about.
projects.
collaborate.
resources.
contact.
what we do.
team.
collaborators.
press.
street art.
bicycle parking.
workshops.
talks.
campaigns.
bikers of beirut.
civic education.
bicycle hubs.
beirut cyclehack.
bike friendly businesses.